Things to Know
FAQ
ADA Accessibility
Special accommodations for those attendees living with a disability will be handled on an individual basis. Contact the PRiME headquarters at, meetings@electrochem.org immediately if you will need assistance.
Permissions Granted to ECS
PRiME reserves the right to electronically record any or all meeting-related events. By registering for and/or attending an PRiME meeting you are granting PRiME permission to use any recording or photography made of you at any meeting event or anywhere within the meeting venue.
Speaker Indemnification
The ideas and opinions expressed in the technical sessions, conferences, and any handout materials provided are those of the presenter. They are not those of PRiME, nor can any endorsement by PRiME be claimed.
Financial Assistance
Many ECS divisions offer travel grants to students, postdoctoral researchers, and young professionals to attend PRiME. Applications are available online here and needed to be received by June 10, 2016. Additional financial assistance is very limited and generally governed by the symposium organizers. Individuals may inquire directly to the organizers of the symposium in which they are presenting their paper to see if funding is available. For general travel grant questions, please contact travelgrant@electrochem.org.
Photography and Recording
Photography and video and audio recording are not permitted in technical sessions. By attending the PRiME meeting, you agree that you will not record any technical session activity, without the express written consent from PRiME. If you violate this policy you will be removed from the meeting and your registration will be revoked without the possibility of a refund.


Registration

- - - - - - - - - - - - - - - - - - - - -
Meeting Program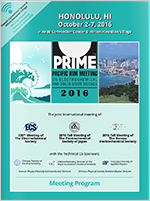 - - - - - - - - - - - - - - - - - - - - -
Important Dates
Abstract Deadline
April 15, 2016

Registration Now Open!

Travel Grants
June 10, 2016

Exhibit & Sponsorships
June 15, 2016

Early-Bird Ends
September 2, 2016