Exhibitor List
Exhibit Hours
Monday, Oct. 3
1100-2200h Exhibitor Move In
1100-1500h Lunch - 3rd floor food outlet

Tuesday, Oct. 4
1100-1500h Lunch - 3rd floor food outlet
1300–1600h Technical Exhibit
1800-2000h Technical Exhibit General & Student Poster Session

Wednesday, Oct. 5
0900–1400h Technical Exhibit
0930–1000h Coffee Break in Exhibit Hall
1100-1500h Lunch in Exhibit Hall 2
1800-2000h Technical Exhibit & General Poster Session

Thursday, Oct. 6
0900-1200h Technical Exhibit
0930-1000h Coffee Break in Exhibit Hall
1100-1500h Lunch - 3rd floor food outlet
1200–1600h Technical Exhibit Tear Down

Exhibitors

---
ALS Co.,Ltd
Booth: 306
Katsunobu Yamamoto
Yamamoto@bas.co.jp
1-28-12, Mukojima
Sumida-ku, Tokyo 131-0033
Japan
+81-3-3624-0331
www.als-japan.com




ALS provides researchers with a wide range of products for electrochemistry and spectroelectrochemistry applications, including Bi-Potentiostat (Model 2325), Ring-Disk Electrode apparatus (RRDE-3A), Spectrometer Systems (SEC2000) and Faraday cage (CS-3A). We also dealing with various kinds of Spectroelectrochemical cells (SEC-C/SEC-2F), Quartz Crystal Microbalances cell/Quartz crystal (QCM/EQCM) and Electrodes/Accessories for EC measurement same as their related items.


Bio-Logic USA
Booths: 214 & 216
David Carey
david.carey@bio-logic.us
9050 Executive Park Drive, Suite 100C
Knoxville, TN 37923
USA
865-769-3800
www.bio-logic.net/




Bio-Logic is the exclusive provider of EC-Lab electrochemical instruments. The EC-Lab family of products includes modular single-channel (SP-50/150/200/300) and multi-channel (VSP/VMP3/VSP-300/VMP-300) potentiostats/galvanostats, High current potentiostats (HCP-803/1005) and easy to use software. Additionally, Bio-Logic offers a complete line of electrochemical accessories, including cells, electrodes, and ancillary instruments. Bio-Logic is also the provider of BT-Lab line of battery cyclers (MPG-2xx and BCS-8XX families), the SCAN-Lab line of localized electrochemical scanning systems (M370 and M470 modular systems), and the MT-Lab materials analysis systems (MTZ-35 FRA and high temperature sample holder). Come to booths 312, 314, and 316 to see our exciting showcase of products.
Dioxide Materials
Booth: 105
Maria Gainer
Maria.gainer@dioxidematerials.com
3998 FAU Blvd., Suite 300
Boca Raton, FL 33431
USA
561-613-1991
www.dioxidematerials.com



Dioxide Materials™ is displaying Sustainion™ anion exchange membranes enabling alkaline water electrolyzers with up to 6 A/cm² current at 2.05 V and 60 C, CO2 electrolyzers with up to 280 mA/cm² at 3 V and room temperature. Preorders of membranes for researchers interested in beta-testing available before formal product announcement.
DropSens
Booths: 205 & 207
Paula Caldevilla
Info@dropsens.com
Parque Tecnológico de Asturias
Edificio CEEI
33428 Llanera
Spain
(+34)985-277-685
www.dropsens.com



DropSens designs instruments for Electrochemistry and Electroanalytical Research, with a clear point-of-care philosophy. They are focused on the manufacturing of screen-printed electrodes, providing researchers with a powerful platform for the development of electrochemical (bio)sensors: chemical, enzyme, immune and genosensors; also incorporating the advantages of Nanotechnology to Electrochemistry through our nanostructured sensors. In addition they have a wide variety of Bluetooth battery-powered Portable Potentiostats offering the main electrochemical techniques while retaining the accuracy of bigger instruments and with an easy-to-use computer interface. Their latest equipment releases in the field of Spectroelectrochemistry and Electrochemiluminescence have moved one step further the range of applications of their products.DropSens can also manufacture tailored instruments.
FUJIFILM Dimatix, Inc.
Literature Display
Eunice Wang
ewang@dimatix.com
2250 Martin Avenue
Santa Clara, California 95050
USA
408-565-0670
www.dimatix.com




Inkjet printing allows creation of products like DNA arrays, electronics, displays and solar cells. The DMP-2831 is designed for micro-precision jetting a variety of functional fluids onto virtually any surface and minimizes waste of expensive fluid materials, thereby eliminating the cost and complexity associated with traditional product development and prototyping.and electrodes.


Gamry Instruments
Booths: 215 & 217
Cynthia Schroll
cschroll@gamry.com
734 Louis Drive
Warminster, PA 18974
USA
215-682-9330
www.gamry.com



Gamry Instruments designs and manufactures high-quality electrochemical instrumentation and accessories. Our full lineup includes single and multichannel potentiostats from 600 mA to 30 A (all capable of EIS), fully-integrated spectroelectrochemical setups for both UV/Vis and Raman, four-terminal battery holders and an EQCM that can handle any crystal from 1-10 MHz. Stop by to see our new potentiostats including one specially designed for testing batteries, fuel cells, and supercapacitors.
Gelest
Literature Display
Gabrielle Lockwood
glockwood@gelest.com
11 E. Steel Rd.
Morrisville, PA 19067
USA
215-547-1015
www.gelest.com



Gelest, Inc., headquartered in Morrisville, Pennsylvania, is recognized worldwide as an innovator, manufacturer and supplier of commercial and research quantities of organosilicon compounds, metal-organic compounds and silicones. Gelest serves advanced technology markets through a materials science-driven approach. The company provides focused technical development and application support for semiconductors, optical materials, pharmaceutical synthesis, diagnostics and separation science, and specialty polymeric materials: "Gelest – Enabling Your Technology.
Heifei Ke Jing Materials Technology Co., LTD (KMT)
Booth: 302
Tanglin An
antanglin@kjmti.com
10 Ke Xue Yuan Street, Shushan District
Hefei, Anhui, 230031
China
01186-400-060-9969
www.kjmti.com/



KMT has been providing a total solution for materials research labs since 1995. KMT supplies ceramic, crystal, metallic substrates from A-Z and nano-powder. We also provides laboratory R&D equipment including mixing, cutting, polishing machines, high temperature muffle and tube furnaces, pressing machines, film coaters, glove boxes, high vacuum systems, high-pressure furnaces, RTP furnaces, CSS and PECVD furnace systems, high pressure and hydrogen furnaces, melting and casting systems, crystal growth systems as well as compact XRD/X-Ray orientation unit and equipment for battery and energy materials research.
Hohsen Corporation
Booth: 201
Daisuke Sakai
sakai@hohsen.co.jp
8F Risona Senba Bldg. 4-21, 4-chome
Minamisenba, Chuo-ku
Osaka-shi
Osaka 542-0081
Japan
+81-6-6253-2600
www.hohsen.co.jp



Hohsen provides R&D / Pilot Line / Mass Production equipment, materials, parts, engineering and consulting services for Lithium-ion battery fabrication.
Hokuto Denko Corp.
Booth: 102
Takeshi Morita
morita@hokuto-denko.co.jp
4-22-13, Himonya
Meguro, Tokyo 152-0003
Japan
+81-3-3793-8787
www.hokuto-denko.co.jp



Hohsen provides R&D / Pilot Line / Mass Production equipment, materials, parts, engineering and consulting services for Lithium-ion battery fabrication.
I2CNER
Booth: 203
Ruri Hirashima
wpisyogai@jimu.kyushu-u.ac.jp
744 Motooka, Nishi-ku
Fukuoka 819-0395
Japan
+81-9-2802-6935
http://i2cner.kyushu-u.ac.jp/en/



International Institute for Carbon-Neutral Energy Research (I2CNER) seeks to contribute to the advancement of low carbon emission and cost effective energy systems and improvement of energy efficiency. The array of technologies that I2CNER's research aims to enable includes Solid Oxide Fuel Cells, Polymer Membrane based fuel cells, biomimetic and other novel catalyst concepts, and production, storage, and utilization of hydrogen as a fuel.
Interactive
Booth: 114
Yoshinori Shingaki
shingaki@inter-active.co.jp
TT-1 Building 11F, 14-8,1-chome
Nihombashi-Ningyocho, Chuo-ku, Tokyo
Japan
+81-3-5695-1035
www.inter-active.co.jp



Interactive provides Arc plasma deposition system(APD). APD is a unique technique to deposit ultra-thin films and nanoparticles by generating metal ions in a simple process. It can achieve an effect that cannot be obtained with other deposition methods such as particle deposition.The system can select nano-particle diameter within the range of approx. 1.5nm to 6nm.It is useful for the electrode of Fuel cell, LIB.
Ivium Technologies
Booth: 111
Pete Peterson
pete@ivium.us
961687 Gateway Blvd. Suite 201 D
Fernandina Beach, FL 32034
USA
800-303-3885
www.ivium.us



Ivium Technologies designs electrochemical instrumentation for the most demanding experiments. We are demonstrating the new CompactStat.h™ and IviumStat.h™ Potentiostats with 24-bit resolution. We're also exhibiting the Vertex™ Potentiostat for labs on a budget, the nStat™ MultiChannel Potentiostat with up to 16 potentiostats, and the handheld pocketSTAT™ Potentiostat for portability.
Maccor
Booth: 312
Mark Hulse
m.hulse@maccor.com
2 S 49th W. Avenue
Tulsa, OK 74107
USA
918-446-1874
www.maccor.com



Maccor manufactures testing equipment for the battery and energy storage market (i.e. batteries, capacitors, fuel cells, etc.). Maccor Inc. was the pioneer, and is the world's largest commercial manufacturer for this type of equipment. More companies rely on Maccor everyday for their battery and cell test equipment needs. Today Maccor has thousands of systems in operation in more than 50 countries.
McScience Inc.
Booth: 210
Matthew Son
skson@mcscience.com
B-1102, Digital Empire Bldg.
1156-16 Deogyeong Blvd., Youngtong
Suwon, Kyeonggi-do 16690
Korea
82-31-303-5789
www.mcscience.com



McScience is a supplier of advanced technology products and solutions for Scientific Research, Photovoltaics, Industrial Manufacturing, Semiconductors and Microelectronics markets.

Established in 2000, McScience has over 15 years of industry knowledge and field experience across a broad range of technologies to enhance the capabilities and productivity of its manufacturing, engineering and research applications.
MFC Systems
Booth: 213
Mark Sholin
mark@mfcsystems.com
3116 S. Mill Avenue, Suite 238
Tempe, AZ 85282
USA
480-703-1130
www.mfcsystems.com



MFC Systems is an up-and-coming potentiostat design and manufacturing company based in the USA. Since 2014, we have offered the growing family of Squidstat™ potentiostats & galvanostats to researchers worldwide. Our modestly-priced, well-equipped products feature a wide selection of current ranges with easy-to-use software and unique data backup systems. Pricing ranges from $2,400 to $9,600, with even lower-cost potentiostats in development. All software and technical support services are available for free. We are showcasing two new potentiostats at PRiME 2016. Both offer unprecedented value in terms of capabilities and pricing. Visit booth 213 to see them in action!
Micrux Fluidic S.L.
Booth: 117
Ana Fernandez La Villa
Anafv@micruxfluidic.com
Edif. Severo Ochoa
– l, 486, Auja. Julián Clavería
Oviedo, Asturias 33006
Spain
+34-984-151019
www.micruxfluidic.com



Micrux Technologies (Asturias, SPAIN) is an innovative technology-based company founded in 2008. Micrux is focused on the design, development and manufacture of novel miniaturized analytical systems based on Lab-on-a-Chip (LOC) as well as thin film electrodes. These technologies can be used for research and educational activities in microfluidic and electrochemistry field in several research areas such as environment, agro-food and health.

Micrux contributes to make the use of microfluidic and electrochemical devices more routinary in different research fields as well as in industry. Thus, Micrux works actively to transfer the basic research knowledge to the emerging Lab-on-a-Chip (LOC) & Point-of-Care (POC) industry.

Micrux is proficient in microfluidics and electrochemical detection systems providing to their customers the latest innovations in microfluidic platforms, electrochemical sensors and analytical portable instrumentation for their research and educational activities.
Nissan ARC, Ltd.
Booth: 101
Hideto Imai
imai@nissan-arc.co.jp
1 Natsushima-cho
Yokosuka, Kanagawa 237-0061
Japan
+81-46-866-5814
www.nissan-arc.co.jp


>
NISSAN ARC, LTD., an affiliate of Nissan Motor Co., Ltd., is a global analysis and consulting company that serves leading businesses, universities, and government research institutes. We offer world-class analysis services and consultancy to help customers' innovations in R&D, engineering and product manufacturing, with our expertise and cutting-edge technologies.
Novonix
Booth: 108
David Stevens
info@novonix.ca
1 Research Drive
Dartmouth, NS B2Y-4M9
Canada
902-449-9121
www.novonix.ca



Novonix has taken its expertise in developing High Precision Charger (HPC) systems in Dr. Jeff Dahn's lab to commercializing a turn-key HPC system. Novonix's charger systems are designed for high precision measurements of the coulombic efficiency of Li-ion cells which has been shown to be useful in
PAR/Solartron
Booths: 316 & 314
Ari Tampasis
ari.tampasis@ametek.com
801 South Illinois Ave.
Oak Ridge, TN 37830
USA
865-483-2122
www.princetonappliedresearch.com



Princeton Applied Research is a leading manufacturer of laboratory instruments utilized for investigations in the field of electrochemistry, which includes batteries, fuel cells, corrosion, sensors and general physical chemistry. In business more than 50 years, we offer customers the benefit of knowledge, expertise, products, and solutions to support their particular research interest. Solartron Analytical is the global leader in Electrochemical Impedance Spectroscopy, providing more than 60 years of instrumentation development expertise for materials and electrochemical research. Solartron Analytical instruments and accessories are advancing the research into the physical and electrochemical properties of batteries, fuel cells, organic coatings, corrosion inhibitors, and sensors, as well as the characterization of materials for dielectrics, solar cells, display technologies, ferroelectrics, and composites.
Picosun USA, LLC
Booth: 115
Dr. Wilfredo Cabrera
General Manager
Wilfredo.cabrera@picosun.com
1651 N. Collins Blvd. Suite 224
Richardson, Texas 75080
USA
Phone | +1 214 790 0844
Mobile | +1 214 490 3951
E-mail | info@picosun.com
www.picosun.com



Picosun is the leading provider of high quality Atomic Layer Deposition thin film coating solutions for global industries and R&D.

Picosun's fully automated, SEMI compliant batch and cluster ALD systems enable cost-efficient, high volume industrial production whereas smaller scale lab tools allow cutting-edge research with unique upscalability to industrial environment.
Pine Research Instrumentation
Booth: 310
Diane White
pinewire@pineinst.com
2741 Campus Walk Ave., Bldg. 100
Durham, NC 27705
USA
919-782-8320
www.pineinst.com/echem



Pine Research Instrumentation designs, manufactures, and supports a full line of cost-effective, durable, and reliable electrochemical research instrumentation. Pine Research offers a variety of potentiostat/galvanostat systems including the WaveDriver and WaveNow, which are controlled using the powerful AfterMath software package. Specialty products include unique quartz electrochemical cells for photoelectrochemistry and spectroelectrochemistry. Pine Research is still the world leader in rotating disk, ring-disk, and cylinder electrodes and related instrumentation. Quick and easy electrochemical measurements can be made with our carbon, platinum, or gold screen-printed.
Product Systems Inc. (ProSys Inc.)
Booth: 204
Mark Beck
sales@prosysmeg.com
1745 Dell Ave
Campbell, CA 95008
USA
408-871-2500
www.prosysmeg.com


>
ProSys Megasonic cleaning systems and transducers provide superior cleaning performance, substantially higher reliability, and a lower cost of ownership for manufacturers of submicron contamination-sensitive products. Megasonics is our core and only business. Our company focuses on delivering innovative technology with exceptional performance at a competitive cost.
Samsung SDI Co. Ltd.
Booth: 206
Byoung Hyu, Koh
bhkoh@samsung.com
150-20, Gongse-Ro Giheung-Gu
Technology Planning Group
Yongin-Si, Gyeonggi-do 17084
Republic of Korea
+82-31-8006-3572
www.samsungsdi.co.kr



The world leader in the lithium-ion industry, Samsung SDIs product portfolio includes rechargeable, advanced lithium-ion batteries for mobile devices, electrified vehicles and energy storage systems.
Scribner Associates, Inc.
Booth: 200
Jason Scribner
jason@scribner.com
150 E Connecticut Ave.
Southern Pines, NC 28387
USA
910-695-8884
www.scribner.com



Scribner Associates specializes in advanced analytical hardware and software for electrochemical research and development. Our software packages such as ZPlot, ZView, MultiStat and CorrWare are recognized world-wide as the gold standard for instrument control and data analysis. On display will be the Model 850e Fuel Cell Test System, a turn-key instrument for PEM, DMFC and SOFC R&D. The 850e features multiple current ranges for high accuracy over a wide dynamic range, automated humidifier bypass valves for wet/dry cycling, automatic humidifier water fill, manual or automated inlet selector valves, integrated potentiostat functions, and accurate dew point control up to 5 SLM. The 850e is now CE certified. Scribner is pleased to introduce the Model 580 8-Channel Battery Cycler. The 580 is specifically designed for battery and capacitor discharge cycling and offers CC, CV, CP, and CR modes, 6 current ranges, cell resistance by HFR, 5-wire terminal measurement, and comes with user friendly software for instrument control and data analysis. All of our products are available for quick delivery and are backed by comprehensive technical support.
Toray Research Center, Inc.
Booth: 304
Masayuki-Hatada
Masayuki_hatada@trc.toray.co.jp
1-1-1 Nihonbashi-honcho, Chuo-ku, Tokya 103-0023
Japan
+81-3-3245-5665
www.toray-research.co.jp



Toray Research Center Inc., (TRC) provides an extensive range of high quality material analysis services. We have 38 years of experience serving the world's top R&D / manufacturing companies in a variety of industrial fields including LIB and FC. Learn how our benchmarking / degradation material analysis can work for you.
Toshima Manufacturing Co., Ltd.
Booth: 300
Kenji Sakai
sakai@material-sys.com
1414 Shimonomoto
Higashimatsuyama, Saitama 3550036
Japan
+81-493-24-6715
www.material-sys.com



For worlds' material researchers, Toshima Manufacturing Co., Ltd. provides sputtering targets, powders, MOCVD precursors, MOD coating materials. They are applicable to Li-ion battery, superconductor, photocatalyst, and piezoelectric ferroelectric fields. Especially our LLZO for solid electrolyte in R&D as well as PZT for sensors in mass production are used all over the world.
Ultratech
Booth: 202
Robert Kane
ALDSALES@ultratech.com
130 Turner St. Building 2, Suite 110
Waltham MA. 02453-8901
USA
781-907-8906
www.CambridgenanotechALD.com



Ultratech/CNT has simplified Atomic Layer Deposition with Flexible, Reliable, and Cost effective ALD systems. With over 450 systems installed and 2000 peer reviewed publications using our tools, we are the supplier to "jump start" your research or to solve your production needs in the shortest time frame.
Waterstar
Booth: 107
S.Kishore Pilli
Satyananda.Pilli@tennantco.com
18650 Industrial Circle
Parkman, Ohio 77080
USA
440-996-0817
www.waterstarinc.com



Water Star Inc., a Wholly-Owned Subsidiary of Tennant Company, is a technology-driven company specializing in the innovation, development, and manufacture of precious metal coated titanium anodes (MMO – Mixed Metal Oxide or Dimensionally Stable Anodes), Cathodes, Cells, Assemblies, and Catalyzed Media.
Zahner-electrik GmbH
Booth: 116
Dr. Hans Schäfer
hjs@zahner.de
Thueringer Str. 12
D-96317 Kronach
Germany
(49) 9261-962119-0
www.zahner.de



Zahner-elektrik, is a manufacturer of high-end electrochemical and photo-electrochemical workstations with an experience of 35 years. IM6, Zennium and CIMPS systems are designed for outstanding accuracy and reliability and equipped with unique features to improve the quality of your experiments in solar cell, battery, fuel cell, and corrosion research and in many other fields of electrochemistry.


Registration

- - - - - - - - - - - - - - - - - - - - -
Meeting Program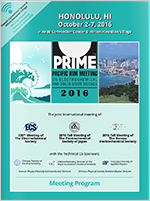 - - - - - - - - - - - - - - - - - - - - -
Important Dates
Abstract Deadline
April 15, 2016

Registration Now Open!

Travel Grants
June 10, 2016

Exhibit & Sponsorships
June 15, 2016

Early-Bird Ends
September 2, 2016